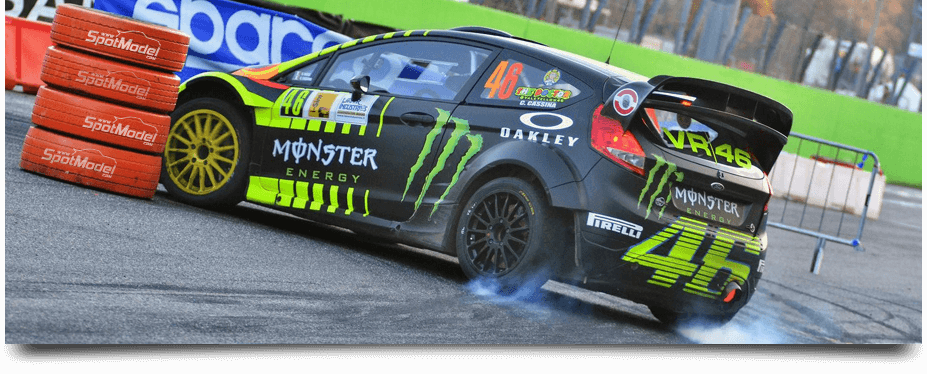 Colorado Decals
This
Portuguese brand
has been manufacturing
decals
for more than 10 years, although maybe some of you still do not know it. Their catalogue is mainly focused on
modern rally cars decorations in 1/24 scale
and we are sure you will love it.
In addition to the classic
silk-screen
decal printing technology, they are also using modern digital
UV printing
equipment. An example of this is the
Valentino Rossi
decoration at the
Monza Rally Show of the year 2013
for Belkits
Ford Fiesta RS
.
We also recommend you to take a look at their generic decals with rally plates of different years, they are very interesting
Start the year burning some rubber at
SpotModel
.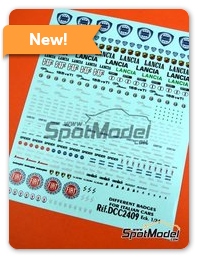 Colorado Decals

: Logotypes 1/24 scale - Different badges fot italian cars: Lancia, Abarth, Alfa Romeo, Fiat, Lamborghini, Maseratti - water slide decals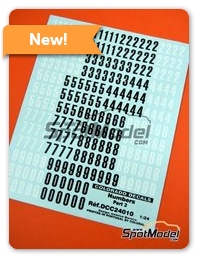 Colorado Decals

: Decals 1/24 scale - Black and white numbers - water slide decals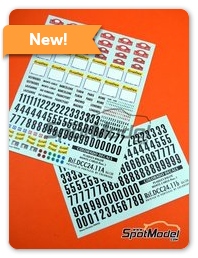 Colorado Decals

: Logotypes 1/24 scale - Monte Carlo rally plates - Montecarlo Rally - Rallye Automobile de Monte-Carlo 1995, 1996, 1997, 1998 and 1999 - water slide decals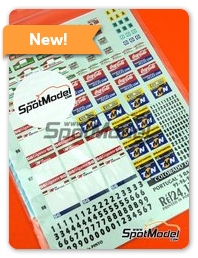 Colorado Decals

: Logotypes 1/24 scale - Portugal rally plates - Portugal Rally 1995, 1996, 1997 and 1998 - water slide decals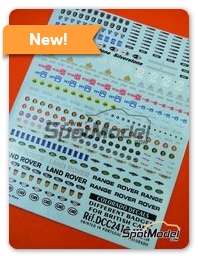 Colorado Decals

: Logotypes 1/24 scale - British cars manufacturers badges: Rover, Mini, Jaguar, Aston Martin, Bentley, Land Rover, MG, Rolls Royce - water slide decals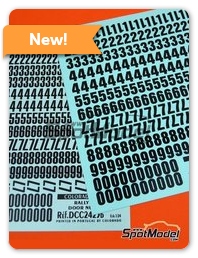 Colorado Decals

: Decals 1/24 scale - Rally cars door numbers - water slide decals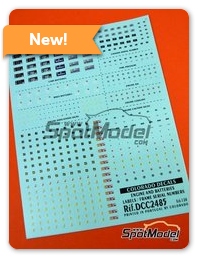 Colorado Decals

: Logotypes 1/24 scale - Engine and batteries labels and frame serial numbers - water slide decals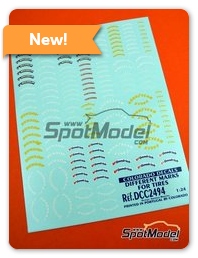 Colorado Decals

: Logotypes 1/24 scale - Michelin, Good Year Eagle, PZero, Dunlop, BF Goodrich, Bridgestone Potenza, Pirelli P7, Yokohama - water slide decals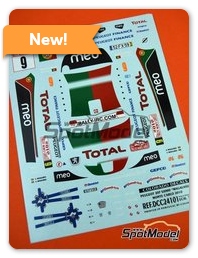 Colorado Decals

: Marking / livery 1/24 scale - Peugeot 207 S2000 Meo #9 - Carlos Magalhães (PT) + B Magalhães (PT) - Montecarlo Rally - Rallye Automobile de Monte-Carlo 2010 - water slide decals - for Belkits reference BEL-001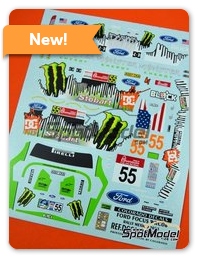 Colorado Decals

: Marking / livery 1/24 scale - Ford Focus WRC 08 Monster Energy #55 - Ken Block (US) + Alessandro Gelsomino (IT) - Rally Guanajuato Mexico 2010 - water slide decals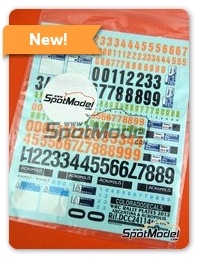 Colorado Decals

: Logotypes 1/24 scale - WRC rally plates - Acropolis rally, Argentina rally 2012 - water slide decals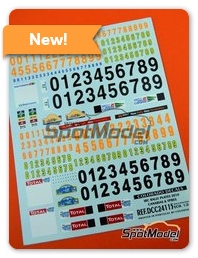 Colorado Decals

: Logotypes 1/24 scale - WRC rally plates - Ypres Rally, El Corte Ingles Rally Islas Canarias 2010 - water slide decals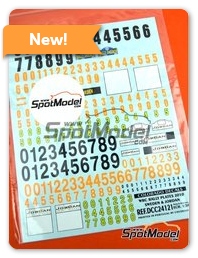 Colorado Decals

: Logotypes 1/24 scale - WRC rally plates - Jordan Rally, The International Swedish Rally 2010 - water slide decals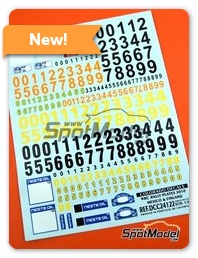 Colorado Decals

: Logotypes 1/24 scale - WRC rally plates - 1000 Lakes Finland Rally, Rally Guanajuato Mexico 2010 - water slide decals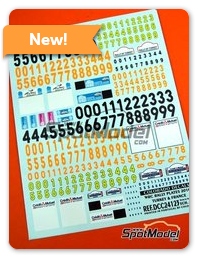 Colorado Decals

: Logotypes 1/24 scale - WRC rally plates - Alsace France Rally, Rally of Turkey 2010 - water slide decals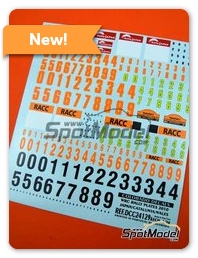 Colorado Decals

: Logotypes 1/24 scale - WRC rally plates - Catalunya Costa Dorada RACC Rally, Japan rally 2010 - water slide decals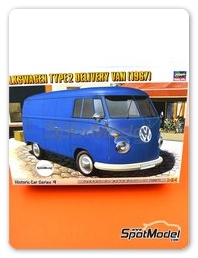 Hasegawa

: Model van kit 1/24 scale - Volkswagen Transporter T2 Delivery Van 1967 - plastic parts, rubber parts, water slide decals, assembly instructions and painting instructions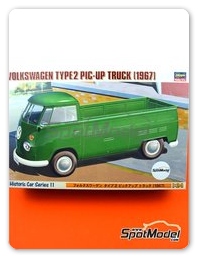 Hasegawa

: Model van kit 1/24 scale - Volkswagen Transporter T2 Pic-Up Truck 1967 - plastic parts, rubber parts, water slide decals, assembly instructions and painting instructions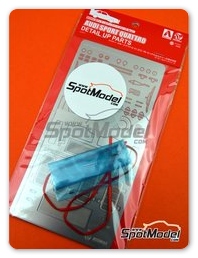 Beemax Model Kits

: Detail up set 1/24 scale - Audi Quattro Sport S1 Group B - photo-etched parts, seatbelt fabric, turned metal parts and water slide decals - for Beemax Model Kits references B24017, 4905083103982 and 103982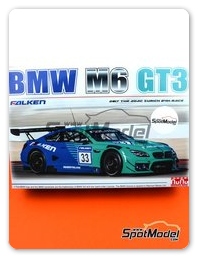 Nunu

: Model car kit 1/24 scale - BMW M6 GT3 Falken Motorsports #3, 33 - 24 Hours Nürburgring 2017 - plastic parts, rubber parts, water slide decals, assembly instructions and painting instructions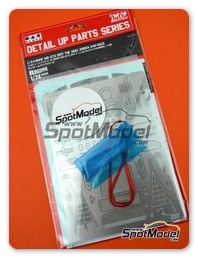 Nunu

: Detail up set 1/24 scale - BMW M6 GT3 - photo-etched parts, seatbelt fabric, turned metal parts and water slide decals - for Nunu reference PN24002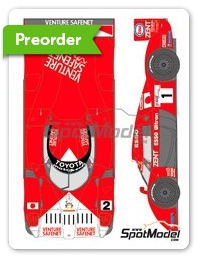 Shunko Models

: Marking / livery 1/24 scale - Toyota TS020 Venture Safenet #1, 2, 3 - Thierry Boutsen (BE) + Allan McNish (GB) + Ralf Kelleners (DE) - 24 Hours Le Mans 1999 - water slide decals and assembly instructions - for Tamiya references TAM24222 and 24222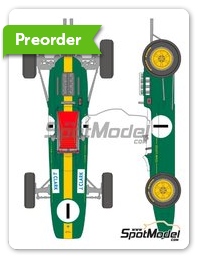 Shunko Models

: Marking / livery 1/24 scale - Lotus type 25 Coventry Climax Team Lotus #1, 8, 4, 18, 23 - Jim Clark (GB) - FIA Formula 1 World Championship 1963 and 1964 - water slide decals and assembly instructions - for Tamiya references TAM20044 and 20044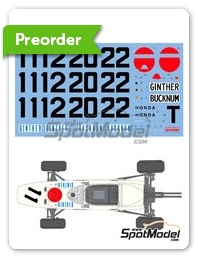 Shunko Models

: Marking / livery 1/20 scale - Honda RA272 #11, 12, 20, 22 - Richie Ginther (US), Ronnie Bucknum (US) - FIA Formula 1 World Championship 1965 - water slide decals and assembly instructions - for Tamiya references TAM20043 and 20043
Copyright © SpotModel