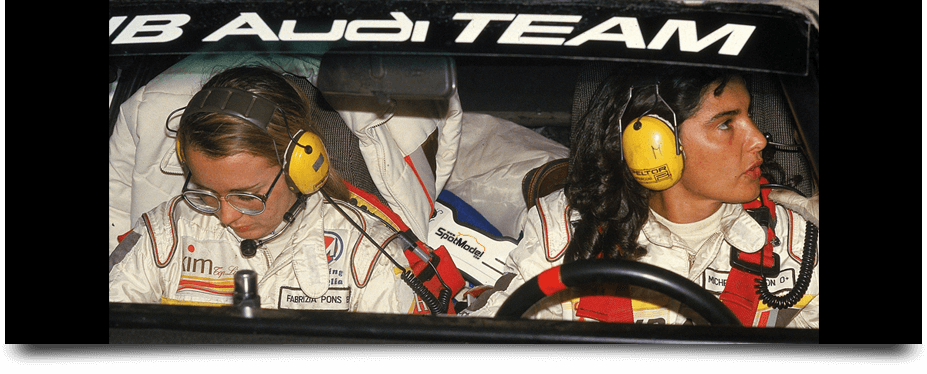 Michèle Mouton
Nobody doubts that one of the most influential women in the racing world is
Michèle Mouton
. In her young years she became the most famous and successful rally driver of all time, winning at San Remo, Portugal, Acropolis and Brazil. She also raced at Le Mans in 1975, and in 1985 she climbed the Pikes Peak, where she asserted her status as a champion by setting three milestones in a row: she was the first non-US participant to win the race, she was the first female driver in winning it and she broke the global time record.
After announcing the ban on Group B cars, Mouton decided to put an end to her sports career, although she has remained attached to the world of the motor racing, dedicating himself to the complicated task of supervising safety, calendars and regulations of the World Rally Championship, in addition to organizing the Race of Champions.
One of the emblematic machines that Michelle drove was the sophisticated
Audi Quattro Sport S1
, and
Reji
recreates the decoration used in the
1985 British Midland Ulster Rally
to be used in the new
Beemax
kit or in any of the previously existing resin kits. A wise decision!
At
SpotModel
, speed DOES matter but gender doesn't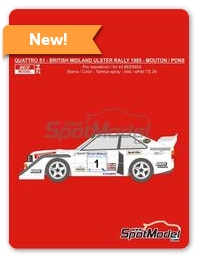 Reji Model

: Marking / livery 1/24 scale - Audi Quattro Sport S1 #1 - Michele Mouton (FR) + Fabrizia Pons (IT) - British Midland Ulster Rally 1985 - water slide decals, assembly instructions and painting instructions - for Beemax Model Kits references B24017, 4905083103982 and 103982, or Profil24 reference P24065, or Reji Model references REJI-2406 and 2406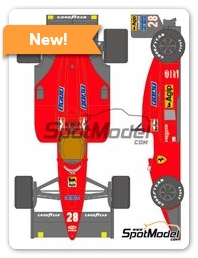 Shunko Models

: Marking / livery 1/24 scale - Ferrari F187 Marlboro #27, 28 - Michele Alboreto (IT), Gerhard Berger (AT) - FIA Formula 1 World Championship 1988 - water slide decals and assembly instructions - for Protar kit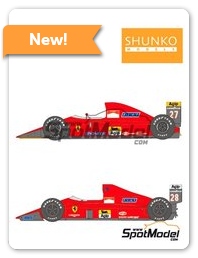 Shunko Models

: Marking / livery 1/24 scale - Ferrari 641/2 F1-90 Marlboro #27, 28 - Nigel Ernest James Mansell (GB), Gerhard Berger (AT), Alain Prost (FR), Jean Alesi (FR) - FIA Formula 1 World Championship 1990 - water slide decals and assembly instructions - for Hasegawa references HA20238, 20238, HA20239 and 20239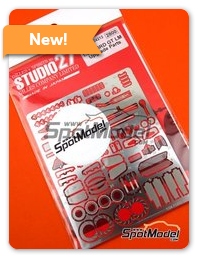 Studio27

: Detail up set 1/24 scale - Ford GT 2017 - photo-etched parts, seatbelt fabric, white metal parts and assembly instructions - for Revell references REV07041 and 07041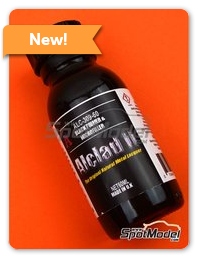 Alclad

: Primer - Black primer and Microfiller - 1 x 60ml - for Airbrush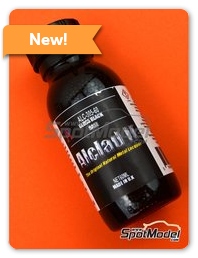 Alclad

: Primer - Gloss black base - 1 x 60ml - for Airbrush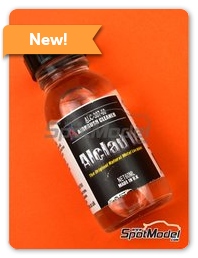 Alclad

: Cleaner - Airbrush Cleaner - 1 x 60ml - for Airbrush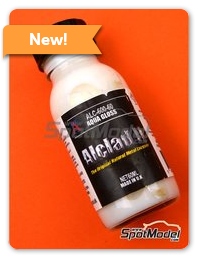 Alclad

: Clearcoat - Aqua Gloss Clear - 1 x 60ml - for Airbrush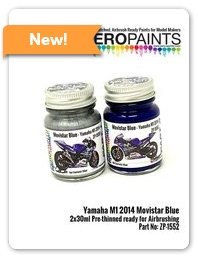 Zero Paints

: Paints set - Yamaha M1 Movistar blue - Motorcycle World Championship 2014 - 2 x 30ml - for Nicolecron Decals reference NLD-068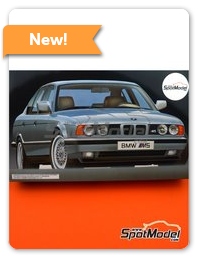 Fujimi

: Model car kit 1/24 scale - BMW M5 - plastic parts, rubber parts, water slide decals, assembly instructions and painting instructions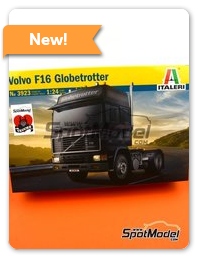 Italeri

: Model truck kit 1/24 scale - Volvo FH16 Globetrotter 4x2 - plastic parts, rubber parts, water slide decals and assembly instructions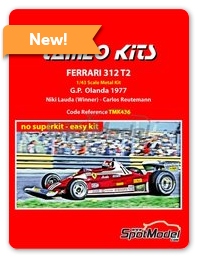 Tameo Kits

: Model car kit 1/43 scale - Ferrari 312 T2 Agip #11, 12 - Niki Lauda (AT), Carlos Reutemann (AR) - Dutch Formula 1 Grand Prix 1977 - photo-etched parts, rubber parts, vacuum formed parts, water slide decals, white metal parts, other materials, assembly instructions and painting instructions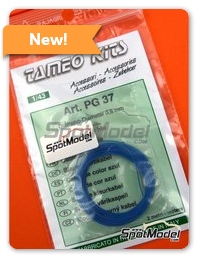 Tameo Kits

: Piping cord 1/43 scale - Blue wire 0.5mm diameter and 2 meters long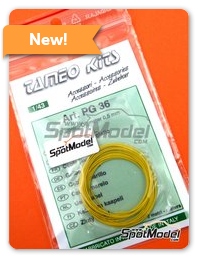 Tameo Kits

: Piping cord 1/43 scale - Yellow wire 0.5 mm diameter and 2 meters long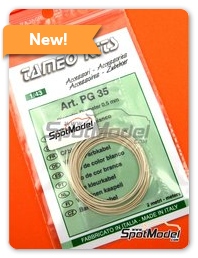 Tameo Kits

: Piping cord 1/43 scale - White wire 0. 5mm diameter and 2 meters long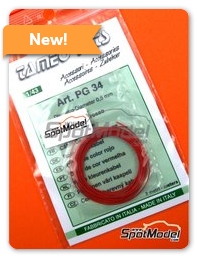 Tameo Kits

: Piping cord 1/43 scale - Red wire 0. 5mm diameter and 2 meters long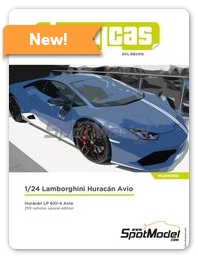 Decalcas

: Marking / livery 1/24 scale - Lamborghini Huracán LP 610-4 Avio - paint masks, water slide decals, assembly instructions and painting instructions - for Aoshima references 01382, 013823 and 13823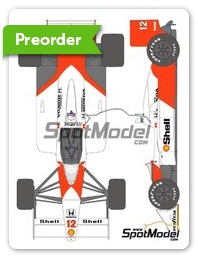 Shunko Models

: Marking / livery 1/20 scale - McLaren Honda MP4/4 Marlboro #11, 12 - Ayrton Senna (BR), Alain Prost (FR), Emanuele Pirro (IT) - FIA Formula 1 World Championship 1988 - water slide decals and assembly instructions - for Tamiya references TAM20022, 20022, TAM89719 and 89719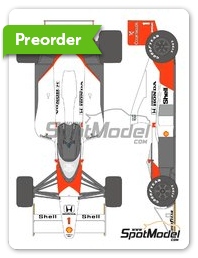 Shunko Models

: Marking / livery 1/20 scale - McLaren Honda MP4/5 Marlboro #1, 2 - Ayrton Senna (BR), Alain Prost (FR) - Monaco Formula 1 Grand Prix 1989 - water slide decals and assembly instructions - for Fujimi references FJ090573, 090573, 09057, GP-16, GP16, FJ090719, 090719, 09071 and GPSP-14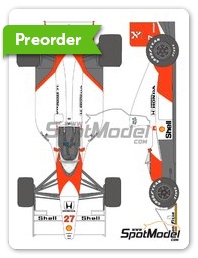 Shunko Models

: Marking / livery 1/20 scale - McLaren Honda MP4/5B Marlboro #27, 28 - FIA Formula 1 World Championship 1990 - water slide decals and assembly instructions - for Tamiya references TAM20026, 20026, TAM89720 and 89720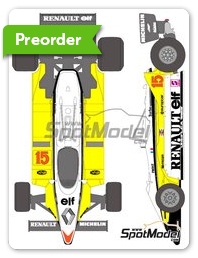 Shunko Models

: Marking / livery 1/20 scale - Renault RE30B Turbo ELF #15, 16 - Alain Prost (FR), Rene Arnoux (FR) - FIA Formula 1 World Championship 1982 - water slide decals and assembly instructions - for Tamiya references TAM20018 and 20018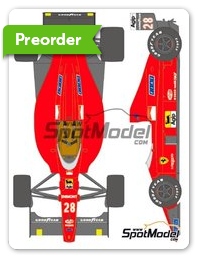 Shunko Models

: Marking / livery 1/20 scale - Ferrari F189 Marlboro #27, 28 1989 - water slide decals and assembly instructions - for Tamiya references TAM20018 and 20018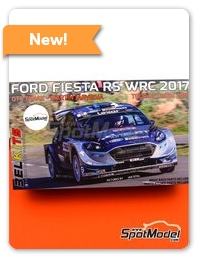 Belkits

: Model car kit 1/24 scale - Ford Fiesta RS WRC MS-RT #2 2017 - paint masks, photo-etched parts, plastic parts, rubber parts, seatbelt fabric, water slide decals, assembly instructions and painting instructions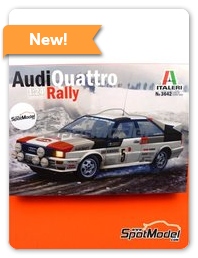 Italeri

: Model car kit 1/24 scale - Audi Quattro Rally Audi Sport #5 - Hannu Mikkola (FI) + Arne Hertz (SE) - Monte Carlo Rally - Rallye Automobile de Monte-Carlo 1981 - plastic parts, rubber parts, water slide decals and assembly instructions
Copyright © SpotModel